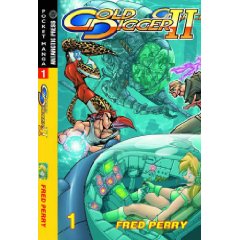 Gold Digger II
---
Résumé
Life for archaeologist/superscientist/adventurer Gina "Gold Digger" Diggers, her adopted were-cheetah sister Britanny, and their clone-fusion sister Brianna is rarely dull and almost always dangerous and fun ! Gina descends to the lost underwater kingdom of Muthia, where she and rival Erwin "Pee Wee" Talon's group compete in a bizarre game show for untold riches - or an old, iron pot. Gina's gamble leads her to an astounding discovery : Djinni are real ! She prepares to wow the Explorer's Society at their annual banquet, certain this discovery will earn her the Explorer of the Year Award. Suddenly, she's interrupted by a new explorer, Duke Elliot Fauntleroy, who has his own startling announcement : Djinni are real !
---
Format
: 11,4 x 15,2 cm
Nombre moyen de pages
: 140 (Noir & Blanc)
Sens de lecture
: Occidental
---
Séries Liées
: d'autres histoires, un même univers.
---