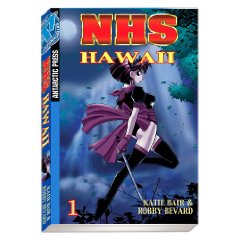 ---
Résumé
It's a brand new school year, and ninja extraordinaire Ricky Feeple has to deal with temperamental new students, bizarre new teachers, and a whole new (and dangerous) curriculum. Apparently, the new school board's looking for a way to pull themselves out of debt and make their jobs easier, and the RNC's new reality TV network might be the ticket ! All they have to do is ship off all the troublemakers - including one red-headed ninja - to a secret island, arm them, and then force them to engage in team-on-team combat ! Of course, no one counted on the possibly insane residents of a hot springs resort on the island...
---
Prix
: 11,53 €
Format
: 12,7 x 18,5 cm
Nombre moyen de pages
: 155 (Noir & Blanc)
Sens de lecture
: Occidental
---
Séries Liées
: d'autres histoires, un même univers.
---