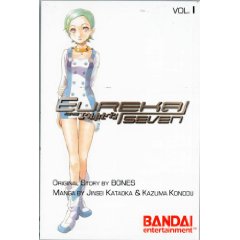 ---
Résumé
Renton Thurston's a young 14-year-old who is tired of his monotonous life. The only thing that makes him happy is when he "lifts," an extreme form of aerial hoverboarding. His feelings of frustration come from his life of toil in his Grandfather's garage and being the son of an enigmatic yet legendary "hero." One day, a large LFO (Light Finding Operation) craft called Nirvash falls from the sky and a beautiful young girl named Eureka emerges and asks for repairs. When a smitten Renton literally falls over himself to help her, the two begin a journey that will change both of their destinies.
---
Prix
: 14,45 €
Format
: 14,5 x 20,3 cm
Nombre moyen de pages
: 560 (Noir & Blanc)
Sens de lecture
: Japonais
---
Autres éditions de la même série
---
Séries Liées
: d'autres histoires, un même univers.
---