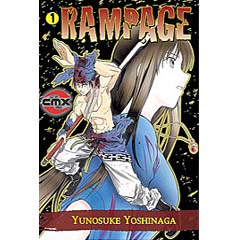 ---
Résumé
China: 184 A.D., a time of great turmoil. A young drifter named Zhang Fei stumbles upon a slaughtered village and encounters the volunteer army of Liu Bei. He joins them in time to help in the defense of a walled city. But later, while attempting to save the life of a little girl, he's struck by an arrow and thrown off a cliff. Rescued by two wizards, he is revived and given great powers. But the price could cost him his very soul!
---
Site officiel
Il n'y a plus d'informations sur le site de l'éditeur.
Consulter les critiques
---
Prix
: 9,39 €
Format
: 12,7 x 18,5 cm
Nombre moyen de pages
: 200 (Noir & Blanc)
Sens de lecture
: Japonais
---
Arrêt de commercialisation.
Disponible uniquement d'occasion.
---
Autres éditions de la même série
---