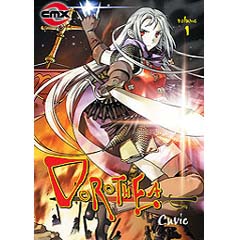 ---
Résumé
In the medieval town of Naudars, albino children hold a revered and protected status. Dorothea is one of these children and she has always wanted to see the world beyond her cloistered existence. When Naudars is attacked, all able-bodied men rise to defend their home. But Dorothea is prepared to defy tradition and enlist in the military. Like Joan of Arc, she must deal with the prejudices of those who are scandalized by the very existence of a young woman warrior. This spirited, sword-wielding girl has to defend herself from charges of witchcraft at the same time she's defending the land she loves.
---
Site officiel
Il n'y a plus d'informations sur le site de l'éditeur.
Consulter les critiques
---
Prix
: 9,39 €
Format
: 12,7 x 18,5 cm
Nombre moyen de pages
: 195 (Noir & Blanc)
Sens de lecture
: Japonais
---
Arrêt de commercialisation.
Disponible uniquement d'occasion.
---