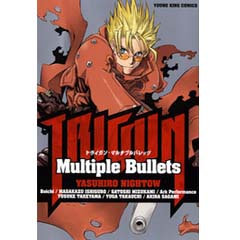 ---
Résumé
Trigun is back with a heavily armed posse of talented gunslingers! An anthology of Trigun tales, Multiple Bullets features the hard-to-find story "Badlands Rumble" by Trigun creator Yasuhiro Nightow (available previously only with the limited-edition Trigun: Badlands Rumble DVD) plus original Trigun stories from top creators Boichi (Sun-ken Rock), Yusuke Takeyama (Rai the Blade: Rising), Satoshi Mizukami (Lucifer and the Biscuit Hammer), Kenji Mitsuyoshi and Koichi Ishikawa's studio Ark Performance (Mobile Suit Gundam),Akira Sagami (Scramble Happy), humor cartoonist Yuga Takauchi, and Masakazu Ishiguro (And Yet the Town Moves).
---
Prix
: 10,12 €
Format
: 13 x 18,3 cm
Nombre moyen de pages
: 200 (Incipit)
Sens de lecture
: Japonais
---
Séries Liées
: d'autres histoires, un même univers.
---