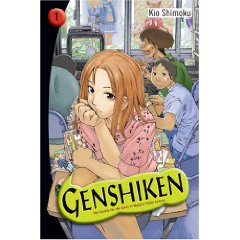 ---
Résumé
It's the spring of freshman year, and Kanji Sasahara is in a quandary. Should he fulfill his long-cherished dream of joining an otaku club? Saki Kasukabe also faces a dilemma. Can she ever turn her boyfriend, anime fanboy Kousaka, into a normal guy? Kanji triumphs where Saki fails, when both Kanji and Kousaka sign up for Genshiken: The Society for the Study of Modern Visual Culture. Undeterred, Saki chases Kousaka through the various activities of the club, from costume-playing and comic conventions to video gaming and collecting anime figures–learning more than she ever wanted to about the humorous world of the Japanese fan . . .
---
Autres éditions de la même série
---
Séries Liées
: d'autres histoires, un même univers.
---