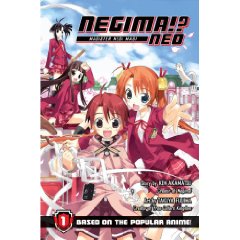 ---
Résumé
Negi Springfield is ten years old . . . and a powerful wizard! This boy wizard is the greatest prodigy ever to graduate from his magic school in England. After graduation, however, Negi's given an unusual assignment: teach English at an all-girl school in Japan. Now Negi has to find a way to deal with his thirty-one totally gorgeous–and completely overaffectionate–students . . . without using magic! Based on the Negima! anime, this is a fresh take on "Negima!" story.
---
Prix
: 7,92 €
Format
: 12,7 x 19 cm
Nombre moyen de pages
: 200 (Noir & Blanc)
Sens de lecture
: Japonais
---
Autres éditions de la même série
---
Séries Liées
: d'autres histoires, un même univers.
---