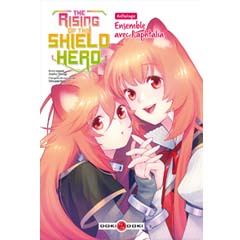 The Rising of the Shield Hero - Anthologie : Ensemble avec Raphtalia
---
---
Résumé
Explorez la richesse de l'univers de The Rising of the Shield Hero grâce à ce recueil de récits consacrés à Raphtalia, le fidèle bras armé du Héros au bouclier. Vous y découvrirez les multiples facettes de cette semi-humaine aussi intrépide qu'attachante ! Inclus : une nouvelle inédite écrite par ANEKO Yusagi.
---
Prix
: 7,50 €
Format
: 13 x 18 cm
Nombre moyen de pages
: 144 (Noir & Blanc)
Sens de lecture
: Japonais
---
Séries Liées
: d'autres histoires, un même univers.
---