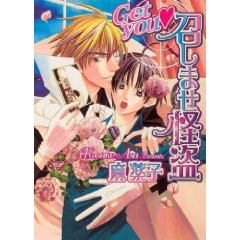 I'll Get You! - Wanted - Mysterious Man!
---
Résumé
The dashing thief FOX is creating a social stir that rookie detective Fujishina is obliged to stop, until he falls for the mysterious criminal. Fujishina becomes thrilled at the prospect of getting his man. (And of arresting him, too.)
---
Site officiel
Pas d'informations sur le site de l'éditeur.
---
Prix
: 9,39 €
Nombre moyen de pages
: 200 (Noir & Blanc)
Sens de lecture
: Japonais
---