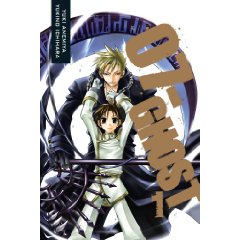 ---
Résumé
Days are long and training is hard at the prestigious Barsburg Academy...especially for an orphan and former slave. Despite the derision of his peers, Teito Klein is at the top of his class. He and his best friend Mikage pass the final exam -- a deadly test using the magical art of Zaiphon -- with flying colors, and things are going well...until a chance encounter with the man who killed his father destroys everything. Imprisoned by those he trusted, Teito makes a daring escape. Taking refuge in a rival empire, he stumbles onto a secret so horrifying that history itself has tried to erase it. Stunned and lost, Teito finds himself trapped in an ancient battle between a wicked God and Seven Ghosts, with only three mysterious priests to guide him. In the midst of this chaos, Teito discovers a power that could save the world...and shed light on his own mysterious past.
---
Site officiel
L'éditeur n'a plus de site internet.
Consulter les critiques
---
Prix
: 7,95 €
Format
: 12,7 x 19 cm
Nombre moyen de pages
: 200 (Noir & Blanc)
Sens de lecture
: Japonais
---
Arrêt de commercialisation.
Disponible uniquement d'occasion.
---
Autres éditions de la même série
---