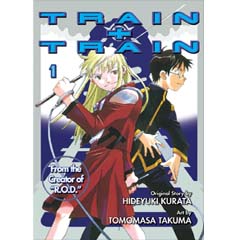 ---
Résumé
On the distant planet of Deloca, teenagers enroll in an education system like no other -- a mobile journey that takes place aboard a train. There are standard School Trains for general studies...and then there's the Special Train, an exceptional institution whose students receive anything but a normal education. Reiichi is a student contented to obediently follow the tracks laid out before him...but when Arena, a rebellious girl with a mysterious past, enters the scene, his life is completely derailed! While dodging the persistent investigator after Arena, Reiichi and his unintended partner-in-crime experience a school year never to be forgotten.
---
Prix
: 7,95 €
Format
: 12,7 x 18,8 cm
Nombre moyen de pages
: 200 (Noir & Blanc)
Sens de lecture
: Japonais
---
Séries Liées
: d'autres histoires, un même univers.
---