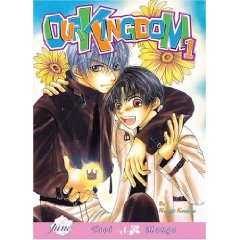 ---
Résumé
Shy Akira grew up in the country knowing little about the drama and fast-pace of city life. But when family circumstances force him to move to an incredible guarded mansion, he soon loses himself in the secrets that lurk down every corridor. Mysterious Rei is Akira's age, and from the moment of their very first meeting in the palace garden, the two boys begin a journey to discover their new lives, their quest for the role of potential leader of a vast corporate empire...and maybe even their shared emotions. Love and legacy mix and mingle as Rei and Akira are set up to become heirs to a vast kingdom beyond their wildest dreams...
---
Site officiel
Consulter les critiques
---
Prix
: 9,36 €
Format
: 14,9 x 21 cm
Nombre moyen de pages
: 190 (Noir & Blanc)
Sens de lecture
: Japonais
---
Séries Liées
: d'autres histoires, un même univers.
---