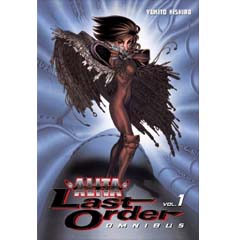 Battle Angel Alita - Last Order Omnibus
---
Résumé
Thought Alita's struggles were finally over? Hoped she could settle down with her devoted full-flesh man in a nice house in the Scrapyard suburbs? Think again! Alita awakens in a new cyborg body--as stunning as before, but even more powerful--in a world whose dark secret has at long last been revealed to all, pitting parent against child, metal against flesh....
---
Prix
: 14,45 €
Format
: 12,7 x 19 cm
Nombre moyen de pages
: 700 (Noir & Blanc)
Sens de lecture
: Japonais
---
Autres éditions de la même série
---
Séries Liées
: d'autres histoires, un même univers.
---