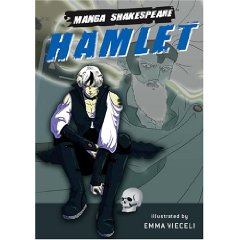 Hamlet
---
Résumé
In this manga, "Hamlet" is set in a dramatic futuristic world. The year is 2017. Global climate change has devastated the Earth. This is now a cyberworld in constant dread of war. The state of Denmark has grown prosperous and defended itself successfully against neighbouring states. But could it be that its greatest threat comes not from without, but from within the state itself ? It is in this cyberworld that we find the young Hamlet. His grief over his father's recent death turns to something far darker when the ghost of his father appears to him. Hamlet is very soon to discover that something is rotten in the state of Denmark...
---
Site officiel
Consulter les critiques
---
Prix
: 7,19 €
Format
: 14,8 x 21 cm
Nombre moyen de pages
: 208 (Incipit)
Sens de lecture
: Occidental
---
Séries Liées
: d'autres histoires, un même univers.
---