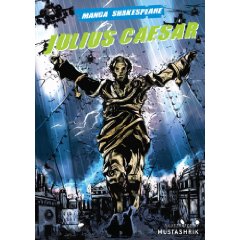 Julius Caesar
---
Résumé
"Beware the Ides of march ! " A soothsayer warns Julius Caesar in Shakespeare's classic portrayal of noble ideals turned to bloodshed. Caesar, grown arrogant on military victory, assumes the people will acclaim his dictatorship. But staunch republicans, Brutus and Cassius, conspire to assassinate him. Civil war follows, as Antony and Octavius seek revenge.
---
Prix
: 7,19 €
Format
: 14,8 x 21 cm
Nombre moyen de pages
: 208 (Incipit)
Sens de lecture
: Occidental
---
Séries Liées
: d'autres histoires, un même univers.
---