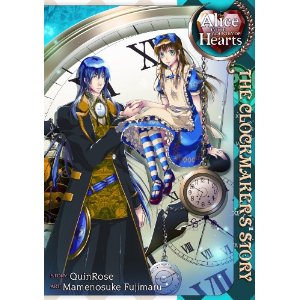 Alice in the Country of Hearts - The Clockmaker's Story
---
Résumé
Julius Monrey is the grim Clockmaker of Wonderland, responsible for controlling the world's time from his lonely Clock Tower, not to mention fixing the stopped clocks of the dead. When the beautiful Alice Liddell comes to live with and rely upon him, will her warm personality melt through his cool, apathetic heart, and bring about romantic feelings he never knew he had?
---
Prix
: 10,12 €
Format
: 14,7 x 20,8 cm. Disponible aussi en numérique (lecture en ligne)
Nombre moyen de pages
: 192
Sens de lecture
: Japonais
---
Séries Liées
: d'autres histoires, un même univers.
---