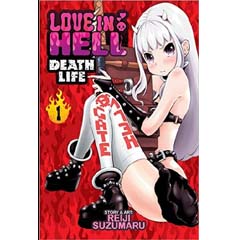 ---
Résumé
Utsunomiya Sousuke is dead. But his new life is about to begin...in Hell! Upon awakening in the Afterlife, Sousuke meets his painfully sexy devil guide Sanagi, who may be short of stature, but packs an all-powerful punch. Like Rintaro before him, can the hopelessly irreverent Sousuke repent from his sins, or is he fated to be forever tortured and teased by a gorgeous demonic temptress?
---
Prix
: 9,39 €
Format
: 12,7 x 18,1 cm
Nombre moyen de pages
: 180 (Incipit)
Sens de lecture
: Japonais
---
Séries Liées
: d'autres histoires, un même univers.
---