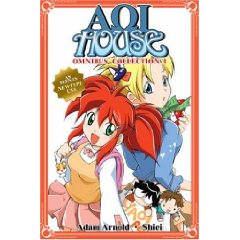 Aoi House - Omnibus -
---
Résumé
Alex and Sandy were two normal guys just trying to get through college. That is, until their troublemaking hamster, Echiboo, gets them thrown out of their dorm rooms. With nowhere else to turn, the boys move into an anime clubhouse with five crazed yaoi fangirls calling all the shots! Elle's obsessively high-strung, Nina's too laid back for her own good, Jessica's a total tease, Maria's a shy and reserved bookworm, and Morgan's just plain bonkers!
---
Autres éditions de la même série
---
Séries Liées
: d'autres histoires, un même univers.
---