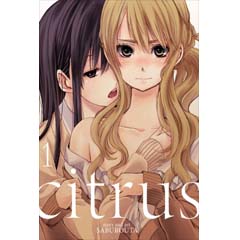 ---
Résumé
Yuzuko Aihara, a high school girl whose main interests are fashion, friends and having fun, is about to get a reality check. Due to her mom's remarriage, Yuzu has transfered to a new, all-girls school that is extemely strict. Her real education is about to begin. From Day One, happy-go-lucky Yuzu makes enemies, namely the beautiful yet stern Student Council President Mei. So what happens when a dejected Yuzu returns home and discovers the shock of her life: that Mei is actually her new step-sister who has come to live with her? Even more surprising, when Mei catches Yuzu offguard and kisses her out of the blue, what does it all mean?
---
Prix
: 10,12 €
Format
: 14,9 x 21 cm
Nombre moyen de pages
: 180 (Noir & Blanc)
Sens de lecture
: Japonais
---
Autres éditions de la même série
---
Séries Liées
: d'autres histoires, un même univers.
---