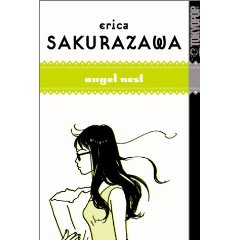 ---
Résumé
A woman named Natsu finds Ken, her husband, with another woman when she comes home from work one day. Ken confesses that he is in love with the girl, Emi, and asks Natsu for a divorce. Natsu doesn't really feel shocked OR sad, for some strange reason. All she can think of is what she has learned from her five years with Ken, and how she can move forward. Then, one sleepless night, she sees an angel sitting on her balcony... and soon after, the angel begins living with her. Emi comes to see Natsu and says Ken has been stalking her. Emi moves into her apartment to be safe. Emi can also see the angel, and the threesome find great comfort in each other's company ... Included in this volume are three more short manga stories: "God Knows Everything", "Tea Time" and "Dispensation of Heaven."
---
Site officiel
Consulter les critiques
---
Prix
: 7,22 €
Format
: 12,5 x 19 cm
Sens de lecture
: Japonais
---
Arrêt de commercialisation.
Disponible uniquement d'occasion.
---
Autres éditions de la même série
---