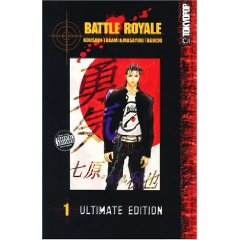 Battle Royale - Ultimate Edition -
---
Résumé
A random class of 9th graders have been chosen for the 'program.' They must now kill each other until the final winner is decided. In protest, it's up to Shuuya to gather a group to fight back and deliver a counter-punch to the government that ruined their lives. But they must be careful, for there are those among them who have decided to try to 'win' this cruel game. New content in this edition includes creator foreword, character sketches, original color covers, articles on weapons used in the series, "2nd opinion" articles on whether real people could sustain characters' injuries, and "On the Couch" articles on the mental stress endured by the characters.
---
Prix
: 18,07 €
Sens de lecture
: Japonais
---
Autres éditions de la même série
---
Séries Liées
: d'autres histoires, un même univers.
---