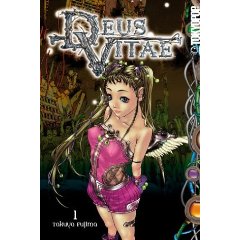 ---
Résumé
Ash Ramy is one of few humans surviving in a world ruled by android Selenoids, created by the 'Goddess' Leave. After Ash kills a high-ranking Selenoid, he is captured by Shee Viona, bodyguard to Mother Seishia, one of the four 'Mothers' that rules the Earth under Leave. While captured, he encounters a Selenoid named Lemiu Winslet who feels some sort of connection to Ash ... thus begins a journey which will find the two of them embarking on a quest to restore humanity's dominion.
---
Arrêt de commercialisation.
Disponible uniquement d'occasion.
---
Autres éditions de la même série
---