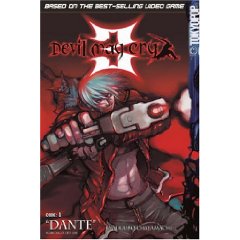 ---
Résumé
Based on the game, "Devil May Cry 3" is an action-packed adventure, pitting good against evil...and brother against brother. Dante is a demon slayer and bounty hunter with a demon heritage of his own that haunts his past. He's currently unemployed--and bored to death. Opportunity knocks in the form of a missing-child case, which his friend and manager, Enzo, offers him. But a four-million-dollar reward, an unexpected demon attack and a little girl named Alice all conspire to send Dante through the looking glass on a nightmarish adventure beyond his wildest imagination.
---
Prix
: 7,22 €
Format
: 12,5 x 19 cm
Sens de lecture
: Japonais
---
Arrêt de commercialisation.
Disponible uniquement d'occasion.
---
Autres éditions de la même série
---