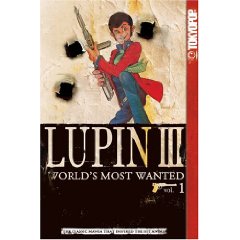 Lupin III - World's Most Wanted
---
Résumé
When the old gang gets invited to a soiree on a remote island, the reunion turns out to be anything but happy, and the situation downright explosive. Our Master Thief invades the HQ of his latest opponent, only to find that the reclusive 'he' is actually a 'she' with a secret weapon that leaves Lupin rock-hard. A big diamond, a bitter old man and a bevy of lovely ladies add up to nothing but danger for the devil-may-care Lupin ... and that's just how he likes it. Lupin takes on his most dangerous mission yet -- he must break into a high security prison and steal a devious device designed to drop him right back into the dungeon, resulting in the most destructive denouement to date.
---
Prix
: 7,22 €
Format
: 12,5 x 19 cm
Sens de lecture
: Japonais
---
Arrêt de commercialisation.
Disponible uniquement d'occasion.
---
Séries Liées
: d'autres histoires, un même univers.
---