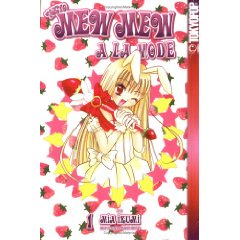 ---
Résumé
With Mew Ichigo studying abroad in London, the remaining four girls from Cafe Mew Mew are one too few. Luckily, a new Mew is about to emerge. Berry just transferred to a different junior high because she thought their school outfits were cute. Little does she know she's about to become the first Mew Mew with TWO sets of animal genes in her blood. Half cat, half rabbit, she's joining the Mew Mew team just in time: A new gang calling itself the Crusaders has appeared, and its leader just happens to love wild game like rabbit--well done and served for his dinner! When Mew Ichigo returns from London she's going to be very, very surprised!
---
Site officiel
L'éditeur n'a plus de site internet.
Consulter les critiques
---
Prix
: 7,22 €
Format
: 12,5 x 19 cm
Sens de lecture
: Japonais
---
Arrêt de commercialisation.
Disponible uniquement d'occasion.
---
Autres éditions de la même série
---
Séries Liées
: d'autres histoires, un même univers.
---