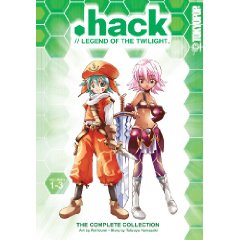 .hack//Legend of the Twilight Omnibus
---
Résumé
Welcome to The World, the most advanced online game ever created... The World lets you be anyone you want to be, act out your adventure fantasies, and through teamwork and determination, you can even become a hero. Fourteen-year-old twins Shugo and Rena just won a contest that lets them play as legendary .hackers avatars "Kite" and "Black Rose"--and now they're ready to take on anything...or so they think!
---
Site officiel
L'éditeur n'a plus de site internet.
Consulter les critiques
---
Prix
: 14,45 €
Format
: 15,2 x 20,8 cm
Nombre moyen de pages
: 664 (Noir & Blanc)
Sens de lecture
: Japonais
---
Arrêt de commercialisation.
Disponible uniquement d'occasion.
---
Autres éditions de la même série
---