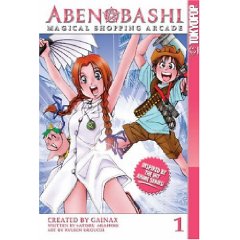 ---
Résumé
Sasshi Imamiya is a 12-year-old boy who speaks with an Osaka accent and can be pretty. He has a huge passion for collecting things, such as baseball cards, and vending machine toys. Sasshi's family used to run the Turtle Bath, which was the local bathhouse, but was forced to give it up and move out due to redevelopment plans for the Abenobashi shopping arcade area. Sasshi spends his lazy days hanging out with his best friend Arumi, having practically grown up together with her in the shopping arcade. Arumis is a sensible and pragmatic girl, who acts as the more rational counterweight to Sasshi's oddball antics. She keeps Sasshi in line by smacking him with her paper fan whenever he makes stupid comments or is up to no good. Arumi's eccentric father and stubborn grandfather run a French restaurant. It appears, however, that the Asahina family will be closing up shop in the near future as part of redevelopment in the area and moving to Hokkaido, forcing Arumi to leave Sasshi behind ...
---
Prix
: 8,45 €
Format
: 12,7 x 18,5 cm
Nombre moyen de pages
: 210 (Noir & Blanc)
Sens de lecture
: Japonais
---
Arrêt de commercialisation.
Disponible uniquement d'occasion.
---
Autres éditions de la même série
---