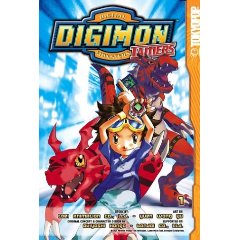 ---
Résumé
When three Digimon fans -- Rika, Henry, and our lead Takato -- suddenly find themselves with "real" Digimon, they discover a living creature under your care is far harder to deal with than a few pixels on your TV screen. The kids try to be Digimon 'Tamers,' aka Digimon caretakers, but they all seem to have different opinions on what that should entail. Rika thinks Digimon should fight, Henry thinks they should never fight, and Takato ... seems to be somewhere in the middle. Being a Tamer isn't just about believing one thing or another. It's about learning and adjusting for the good of everyone else. But they have a long way to go, and their problems are just beginning.
---
Site officiel
Consulter les critiques
---
Arrêt de commercialisation.
Disponible uniquement d'occasion.
---
Séries Liées
: d'autres histoires, un même univers.
---