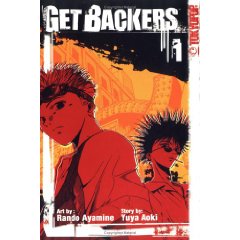 ---
Résumé
The job of a retriever is not a very lucrative one, at least not for Ginji Amano and Ban Mido. Unable to attract even one client, they're so down on their luck that they've ingested nothing but water for the past three days. They attempt -- unsuccessfully, we might add -- to land a date with some girls in the hopes they'll buy the starving duo some hamburgers. And having lost their last yen to a maliciously dysfunctional vending machine, death by starvation seems imminent ... until a homeless man takes pity on them and shares some of the food he's been able to scrounge. Upon learning that Ginji and Ban are the GetBackers, he offers them all he has left to get his daughter back from the Yakuza ... and so begins our saga ...
---
Site officiel
Consulter les critiques
---
Prix
: 7,22 €
Format
: 12,5 x 19 cm
Sens de lecture
: Japonais
---
Arrêt de commercialisation.
Disponible uniquement d'occasion.
---
Autres éditions de la même série
---