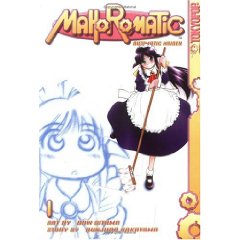 ---
Résumé
Suguru Misato, a junior high school student who has been living by himself since his father died, is now planning to hire a maid. On the bus ride home from school, he sees a cute girl in a maid outfit, and thinks it would be nice if she would be his maid. These thoughts are interrupted when the bus is hijacked. The girl defeats the hijackers and she and Suguru drive the bus to safety. She explains that she was originally a battle android and is used to trouble. As if this wasn't weird enough, Suguru comes home to find the exact same girl singing in his garden. She introduces herself as Mahoro, sent from Vesper to be his new maid.
---
Arrêt de commercialisation.
Disponible uniquement d'occasion.
---
Autres éditions de la même série
---