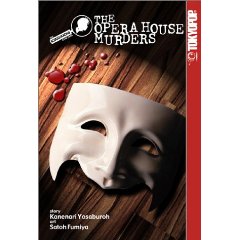 ---
Résumé
Hajime Kindaichi is your classic underachiever - always falling asleep in class, never doing his homework - it's no wonder everyone thinks he's a loser. It seems like his only friend is Miyuki, the girl-next-door. Ignoring her classmates' complaints, she invites Kindaichi to the Drama Club's weekend rehearsal for 'Phantom of the Opera' - after all, someone's got to do the stagehand grunt work. The production gets off to a shaky start, but when cast members start dying in ways mimicking events in the play, things get downright grisly. While everyone worries about being snuffed out, this is young Kindaichi's moment to shine. With his amazing deductive reasoning and the ability to keep his cool in the face of death, he's a regular Sherlock Holmes. Now the class slacker must put on a class act investigation before the 'Phantom' strikes again!
---
Prix
: 7,22 €
Format
: 12,5 x 19 cm
Sens de lecture
: Japonais
---
Arrêt de commercialisation.
Disponible uniquement d'occasion.
---
Autres éditions de la même série
---