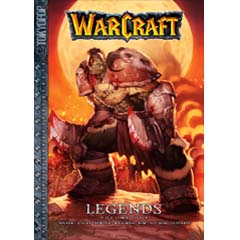 ---
Résumé
"Fallen": Trag Highmountain, the courageous Tauren finds himself reborn...as one of the Undead. "The Journey": The arrival of a group of adventurers with promises of gold and excitement will disrupt a simple farmer's life in ways unimaginable as he takes a nightmarish ride into Scourge-ridden Andorhal. "How to Win Friends and Influence People": Lazlo Grindwidget is a Gnome engineer with a house full of seemingly useless inventions and a knack for saying the wrong things at the right time. But when a Troll goes on a rampage in town, Lazlo may be the only one who can sooth the savage beast. "An Honest Trade": Nori Blackfinger is known from Thorium Point to Booty Bay as a master weaponsmith who will sell his fine blades to anyone with enough coin. But when he sells a sword to Havoc, the infamous bandit and murderer, the result is an adventure that begins in tragedy and ends in blood...
---
Prix
: 7,22 €
Format
: 12,7 x 19 cm
Nombre moyen de pages
: 192 (Noir & Blanc)
Sens de lecture
: Occidental
---
Autres éditions de la même série
---
Séries Liées
: d'autres histoires, un même univers.
---