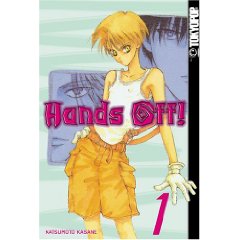 ---
Résumé
Kotarou Oohira, effeminate bishounen and basketball fanatic, moves in with his Grandpa in Tokyo to attend a coed school whose students he hopes will be less judgmental than his all-boys school in the country. Kotarou's aloof cousin Tatsuki Oohira, also living with Grandpa, immediately gives Kotarou a hard time due to the fact that Kotarou unknowingly gave Tatsuki an unsettling postcognition when the two of them were children. Along with the help of Yuuto, a friendly classmate with the ability to see emotional auras around others, the three end up finding themselves in some dangerous mysteries surrounding their school and members of the community. Tatsuki and Yuuto find out their respective ESP abilities are heightened when they touch Kotarou, so they don't hesitate to do so when tracking down kidnappers and the like. Since Kotarou isn't informed that Tatsuki and Yuuto have psychic powers, he tells them where they can put their slimy hands.
---
Prix
: 7,22 €
Format
: 12,5 x 19 cm. Disponible aussi en numérique (lecture en ligne)
Sens de lecture
: Japonais
---
Séries Liées
: d'autres histoires, un même univers.
---