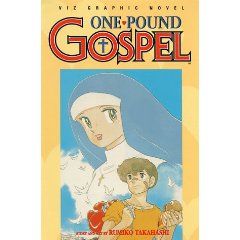 One Pound Gospel - Old Format -
---
A savoir
: Série arrêtée dans ce format. Voir la 2nde édition.
---
Résumé
Koasku Hatanaka is the first pro boxer ever produced by Mukaida's Gym. He's also the bane of his coach's existence. Although he's constantly waging war against his appetite, Kosaku never met a meal he didn't like! Naturally, this plays havoc with his weight class. Junior bantamweight, bantamweight, junior featherweight... every time he moves up a class, his coach's hopes plummet. Isn't gluttony a sin? Sister Angela is a young novice nun who's dedicated, passionate, and convinced that we should give peace a chance. Although she refuses to acknowledge it, it's obvious that Kosaku comes to St. Mary's for more than confession! He comes to see the smile of the beautiful sister, of course! Can her faith redeem the gluttonous appetite of the tempted lamb astride the scale?
---
Prix
: 12,26 €
Format
: 14,2 x 20,5 cm
Sens de lecture
: Occidental
---
Arrêt de commercialisation.
Disponible uniquement d'occasion.
---
Autres éditions de la même série
---