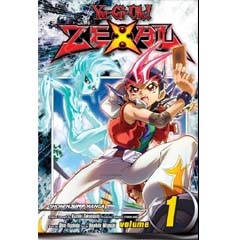 ---
Résumé
In a futuristic city, augmented reality Duels are all the rage. Duelists, using devices called D-Gazers, can interact with their environment and their opponents as never before. With more awesome monsters and unbelievable cards, the future of Yu-Gi-Oh! starts right here! No one loves Dueling more than Yuma Tsukumo, but unfortunately for him, no one is worse at it! This isn't going to stop Yuma from trying though. When Yuma calls on the memory of his parents during the Duel, a strange being called Astral appears, and the encounter is the start of Yuma's amazing Duel journey!
---
Prix
: 7,22 €
Format
: 12,7 x 19 cm
Nombre moyen de pages
: 176 (Noir & Blanc)
Sens de lecture
: Japonais
---
Autres éditions de la même série
---
Séries Liées
: d'autres histoires, un même univers.
---