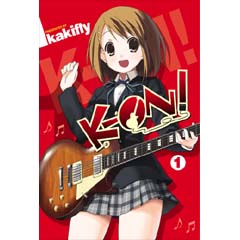 ---
Résumé
When their high school's pop-music club is about to be disbanded due to lack of interest, four girls step up to fill the membership quota. Unfortunately, lead guitarist Yui Hirasawa has never played an instrument in her life. Ever. And although she likes the idea of being in a band, standing in front of the mirror posing with her guitar is a lot easier than actually playing it. It's gonna be a while before this motley crew is rocking out, but with their spunk and determination cranked to 11, anything is possible!
---
Site officiel
Consulter les critiques
---
Prix
: 7,95 €
Format
: 14,6 x 21 cm
Nombre moyen de pages
: 128 (Incipit)
Sens de lecture
: Japonais
---
Autres éditions de la même série
---
Séries Liées
: d'autres histoires, un même univers.
---