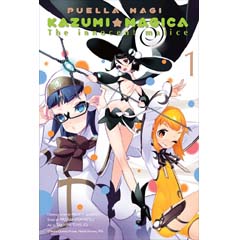 Puella Magi Kazumi Magica - The innocent malice
---
Résumé
A teen girl named Kazumi is roused one evening to find that she was kidnapped while she slept! Bursting from the trunk that held her, Kazumi discovers that not only has she been stripped of her clothes, but also of the memories of her life before the kidnapping. When she is recovered by a pair of schoolgirls, she doesn't recognize them as her best friends and roommates, Umika and Kaoru. As Kazumi tries to settle back into her normal life, she quickly realizes that her former "normal" was anything but! Kazumi has taken a vow to fight evil witches…as a Magical Girl?!
---
Prix
: 9,39 €
Format
: 12,7 x 19 cm
Nombre moyen de pages
: 150 (Noir & Blanc)
Sens de lecture
: Japonais
---
Autres éditions de la même série
---
Séries Liées
: d'autres histoires, un même univers.
---