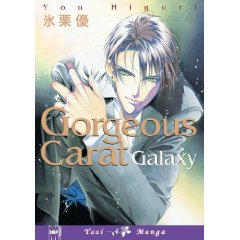 ---
Résumé
Florian, Ray and Lila are back in Gorgeous Carat Galaxy: Il Sacro Bosco dei Monstri! The trio decides to visit the castle of a distant relative known for its unique garden full of monstrous sculptures. However, these mysterious topiaries are more than mere decorations and hold secrets that could be deadly. When a mysterious figure begins to attack the houseguests and an unexpected blizzard keeps everyone confined to the grounds, this peaceful trip to the countryside soon becomes something out of a nightmare. Full of mystery, intrigue and murder, this case is one that will take all of Ray's stealth and knowledge as the notorious thief Noir to solve.
---
Site officiel
Consulter les critiques
---
Prix
: 9,36 €
Format
: 14,9 x 21 cm
Nombre moyen de pages
: 250 (Noir & Blanc)
Sens de lecture
: Japonais
---
Séries Liées
: d'autres histoires, un même univers.
---