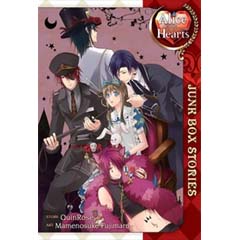 Alice in the Country of Hearts – Junk Box
---
Résumé
The men of Wonderland adore Alice, but she simply can't make up her mind. Whether it's Blood, Ace, Joker, Dee and Dum, Pierce, Boris, Elliot, or Gray, each paramour has a claim on Alice's heart. But whom will she choose?
---
Prix
: 10,12 €
Format
: 14,7 x 20,8 cm. Disponible aussi en numérique (lecture en ligne)
Nombre moyen de pages
: 192
Sens de lecture
: Japonais
---
Séries Liées
: d'autres histoires, un même univers.
---