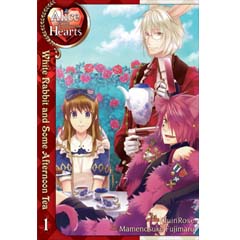 Alice in the Country of Hearts – White Rabbit and Some Afternoon Tea
---
Résumé
Alice in the Country of Hearts: White Rabbit and Some Afternoon Tea chronicles the further adventures of Alice as she goes deeper down the rabbit hole.
---
Prix
: 10,12 €
Format
: 14,7 x 20,8 cm. Disponible aussi en numérique (lecture en ligne)
Nombre moyen de pages
: 192
Sens de lecture
: Japonais
---
Séries Liées
: d'autres histoires, un même univers.
---