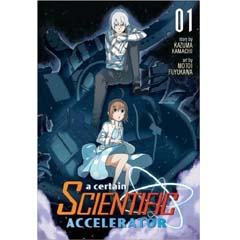 A Certain Scientific Accelerator
---
Résumé
Welcome to a world where mysticism and science collide, and supernatural powers are derived from either science or religion. At the heart of this world is Academy City, an advanced metropolis whose population is comprised mostly of students. The majority of students are enrolled in the city's "Power Curriculum Program," where they must learn to master their latent psychic powers.
---
Prix
: 9,39 €
Format
: 12,7 x 18,1 cm. Disponible aussi en numérique (lecture en ligne)
Nombre moyen de pages
: 192 (Noir & Blanc)
Sens de lecture
: Japonais
---
Séries Liées
: d'autres histoires, un même univers.
---