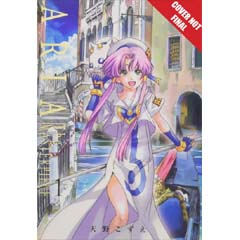 ---
Résumé
On the planet Aqua, a world once known as Mars, Akari Mizunashi has just made her home in the town of Neo-Venezia, a futuristic imitation of the ancient city of Venice. In pursuit of her dream to become an Undine — a gondolier who leads high-end tours around the city — Akari joins as a trainee with the Aria Company, one of the three most prestigious water-guide companies in Neo-Venezia. There, she explores the beauty of the city and the world along with other trainees from Aria and rival companies, working hard for her dreams and making new friends along the way.
---
Format
: 15,2 x 21,6 cm
Nombre moyen de pages
: 352 (Noir & Blanc)
Sens de lecture
: Japonais
---
Autres éditions de la même série
---
Séries Liées
: d'autres histoires, un même univers.
---