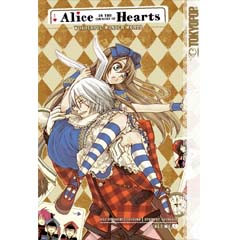 ---
Résumé
Alice, who has fallen asleep in her garden, wakes up to find a white rabbit wearing clothes?! The rabbit forcefully drags Alice into the rabbit hole, where he turns into a young man with rabbit ears and leads her into a frightful world where the fairytale-like citizens wield dangerous weapons for an insidious cause... Unable to return home, will she be able to find happiness in a world full of danger and beautiful young men?
---
Site officiel
L'éditeur n'a plus de site internet.
Consulter les critiques
---
Prix
: 7,95 €
Format
: 12,7 x 19 cm
Nombre moyen de pages
: 192 (Noir & Blanc)
Sens de lecture
: Japonais
---
Arrêt de commercialisation.
Disponible uniquement d'occasion.
---
Autres éditions de la même série
---
Séries Liées
: d'autres histoires, un même univers.
---