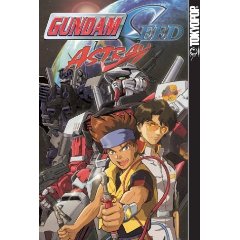 ---
Résumé
Cosmic Era 70. Space is now a battlefield... Lowe, the Professor, Liam and Kisato are Junk Techs, traveling through space, searching for parts to salvage, repair and sell. During a mission, Lowe comes across a top-secret Mobile Suit known as Red Frame. Their lives are about to change forever... Lowe encounters a fierce mercenary, Gai. Starting off as enemies, twists of fate bring them together. Will destiny make them rivals once again? The fate of a peaceful colony hangs in the balance as Liam is reunited with his long lost brother. Their lives turn into an endless adventure as devious minds prepare to steal Red Frame away from Lowe. Do they have what it takes to evade their enemies, or will they suffer devastating consequences?
---
Site officiel
Consulter les critiques
---
Prix
: 7,22 €
Format
: 12,5 x 19 cm
---
Arrêt de commercialisation.
Disponible uniquement d'occasion.
---
Séries Liées
: d'autres histoires, un même univers.
---