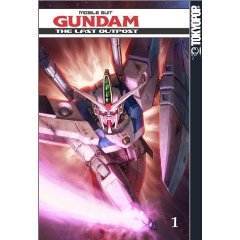 Mobile Suit Gundam Wing - The Last Outpost
---
Résumé
AC 195. Earth and its surrounding colonies were fighting the bloodiest war mankind had ever known. But on the remote asteroid colony MO-V, life carried on as normal. It wasn't long, however, before OZ agents came to enlist the colony in the battle for independence from Earth rule. Now the once neutral colony not only finds itself lending resources to OZ, but they are under attack by a mysterious group who call themselves the Stardust Knights. When Odel Bernett, the colony's top pilot, is shot down in combat, his younger brother, Odin, must don the experimental new MS, the G-Unit, and fight to defend his home.
---
Prix
: 7,22 €
Format
: 12,5 x 19 cm
---
Autres éditions de la même série
---
Séries Liées
: d'autres histoires, un même univers.
---