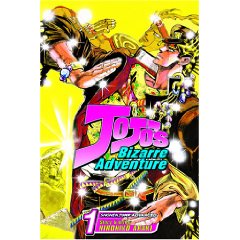 ---
Résumé
Once there was a mighty bloodline of heroes: the Joestars. In the 1880s, Englishman Jonathan Joestar gave his life to defeat Dio, a megalomaniacal vampire. Now, 100 years later, Dio is back, and Jonathan's descendants must travel to Egypt to destroy their ancestral enemy once and for all. On one side: Joseph Joestar and Jotaro Kujo ("JoJo" for short)...a globetrotting martial artist and his delinquent Japanese-English grandson. On the other side: a vampire and an army of murderers possessed by evil spirits, the monstrous "Stands". But Jotaro and Joseph have "Stands" too...and the stage is set for a terrifying battle as the heroes fight their way around the world!
---
Prix
: 14,45 €
Format
: 12,7 x 19 cm
Nombre moyen de pages
: 200 (Noir & Blanc)
Sens de lecture
: Japonais
---
Autres éditions de la même série
---
Séries Liées
: d'autres histoires, un même univers.
---