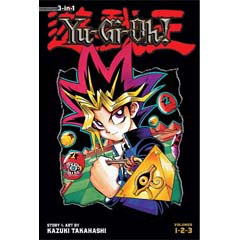 ---
Résumé
Let the games begin! Meet Seto Kaiba, master of the world's most dangerous collectible card game. When Kaiba discovers that Yugi's grandfather owns the incredibly rare "Blue-Eyes White Dragon" card, he will stop at nothing to get it...even if he has to duel with Yugi's dark alter ego Yu-Gi-Oh! Then, out of the sands of Egypt, the mystic Shadi has come to test Yugi's powers, which will give Yugi his greatest challenge yet. If he loses, his best friends will die!
---
Site officiel
Consulter les critiques
---
Prix
: 10,84 €
Format
: 12,7 x 19 cm
Nombre moyen de pages
: 590 (Tout en couleur)
Sens de lecture
: Japonais
---
Autres éditions de la même série
---
Séries Liées
: d'autres histoires, un même univers.
---