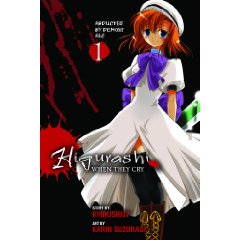 ---
Résumé
Life couldn't be better for Keiichi Maebara. Sure, he's moved to a sleepy, little town where nothing happens and high school consists of a one-room schoolhouse - but his new friends and fellow students are all cute girls ! When he happens upon a story about a grisly local murder, however, his contentment turns to uneasiness as he finds himself drawn into a web of silent intrigue that involves his newfound friends... and threatens his very existence.
---
Prix
: 7,95 €
Format
: 12,7 x 19 cm
Nombre moyen de pages
: 217 (Noir & Blanc)
Sens de lecture
: Japonais
---
Séries Liées
: d'autres histoires, un même univers.
---