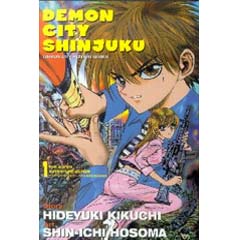 ---
Résumé
The borders between the earthly and spirit world are cracked - and the fault's right beneath Shinjuku ! The town's crawling with demons, and one of them has placed a deadly curse on the President of Earth's ruling federation. Doom is on the horizon ! Fortunately, Kyoya Izayoi is no ordinary high-schooler - he's heir to the rare martial art nenpo, and he wields the mystical sword Ashura. Together with Sayaka Rama, the brave and resourceful daughter of Earth's President, he's taking on Levi Rah, master of the demons and maker of the deadly curse. It's going to take everything they've got.
---
Site officiel
Il n'y a plus d'informations sur le site de l'éditeur.
---
Prix
: 7,86 €
Format
: 12,7 x 18,5 cm
Nombre moyen de pages
: 200 (Noir & Blanc)
Sens de lecture
: Japonais
---
Séries Liées
: d'autres histoires, un même univers.
---